THE COMPANY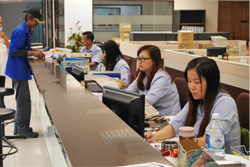 The CHUAN HUAT GROUP business was started by the Founder, the late Mr. Lim Kim Chuan on the 10th of May 1957 and has grown from a small enterprise business to a respectable group of companies headed by CHUAN HUAT RESOURCES BERHAD which is now listed on the Main Market of Bursa Malaysia since 5 August 1997.
The CHUAN HUAT GROUP was initially in the business of merchant hardware supplying to hardware and engineering contractors, she has grown through leaps and bounds evolved to become a leading stockist of iron & steel, importer and exporter of structural steel and other construction materials.
Its strength and reputation in the trade has impressed some large manufacturer and deservingly earned the agency to distribute and market a wide range of building materials and structural steel.
In line with the increased activities in the construction sector, the demand for construction works and construction related materials are expected to increase, the CHUAN HUAT GROUP expanded to include the value-adding activities of "Cut & Bend Rebar", "Wire Mesh" and "EsyFence" welded security fencing to support the upstream operation of the steel and iron thus forming the backbone of the Steel Service Centre Division.
In addition, the CHUAN HUAT GROUP further diversified into the IT business, initially in the manufacturing activities involving production of computer diskettes and compatible and remanufactured ink cartridges through her IT Division lead by her ACE Market listed subsidiary PINEAPPLE RESOURCES BERHAD.
The IT Division has through the years intensify its presence in the industry through the setup of numerous retail outlets throughout, being the amongst the biggest IT retail chain in Malaysia.